Stop Cyber Stalkers from targeting and tracking your employees and eliminate targeted malware entering your network
Introviz delivers powerful, patented technology to thwart the growing threat of cybersecurity to the corporate network. The battle of IT security originated, more than several decades ago, at the network entry points – routers, switches, firewall etc. Most companies have smart network engineers combating the hackers and have some consolation that they are attending to this problem – A false sense of security!
OPM, Target, Experian, 911 centers and there is a huge list of victims here. If you are a CEO / CFO of a midsize company, your network is perhaps already hacked as you are reading this! Your infrastructure when compared to these large corporations, who are victims, is no match to a sophisticated hacker.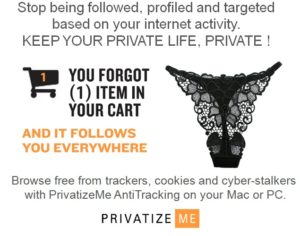 The Cybersecurity battle has in the last several years has migrated to the "back door entry point" – employees' browsers! Your employees surf on work, home, and public networks, and will inadvertently bring outside trackers and targeted zero-day malware into your network. Anti-Virus, VPN, Firewalls and Phishing Site protection protects against known phishing sites and viruses – not browser content. The browser has become the new gateway to phishing and malware. And the malware can spread from employee device to your network. Think of the implications:
Competitors may be tracking your employees
Your intellectual property generators may be followed by sovereign spies
Employee vulnerability from ID theft can migrate to your network through targeted malvertising, phishing or ransomware.
If you are a CEO / CFO of a midsize company, your infrastructure when compared to these large corporations who are victims (listed above) is no match to the sophisticated hacker.
To learn more about PrivatizeME.