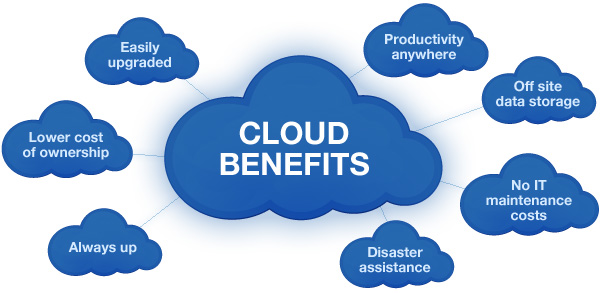 Image Courtesy: https://www.salesforce.com/uk/blog/2015/11/why-move-to-the-cloud-10-benefits-of-cloud-computing.html
The information technology landscape has constantly evolved, creating many costly challenges for SMBs. Most of them have retained old IT systems with gaping security risks and a lack of integration and access to data. The end result is their IT is a costly function and a constant drag to their business!
Migrating to cloud computing is beneficial to small businesses. From Tech start ups to small  businesses cloud computing is a boon. It is a practical solution that can help small businesses to maintain a competitive edge. It can offer exemplary amount of benefits in numerous ways for small business owners which weren't possible years ago. Some of the benefits are listed below:
1. Cost effectiveness: Small business owners seek ways to save money and cloud computing for small businesses is highly cost effective. Cloud hosted servers minimize the need of physical storage and help to use the hardware extensively. Virtualization reduces the dependence on physical hardware which helps in significant savings. Thus, there will be decrease in support costs, power usage, low maintenance and installation.
2. Better collaboration and management: Cloud makes easy collaboration and therefore it is simple to access and save the files through cloud. With the help of cloud collaboration tools like, Google drive, it is simple to upload, edit and comment on documents. Small business owners can track and manage the individual progress on several assignments in an efficient way using the cloud.
3. Improved scalability: One of the most attractive advantages of cloud computing is to access work related files and information from anywhere and anytime. Nowadays, we live in a technological world and files are not on one particular server or computer as we have many options. An employee can work on the devices they own using the cloud.
There are many other advantages of cloud computing as it can help small businesses immensely. The most attractive feature is, you pay for only what you use. So, in case you have the need for ten computers, then you will pay for ten computers only. The monthly fee and license is adjusted as per your need.
Get expert help and customized business solutions
Get supreme assistance for Implementing the technology precisely is crucial to achieve growth in limited revenue for small business owners. Thus, CIO services for small businesses is an ultimate saviour. It can help you develop and implement strategies and technologies to be successful.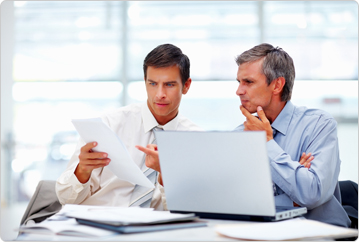 The CIO consulting experts perform a thorough technology assessment and review of your business goals so your systems and networks are properly secured and backed up meeting your corporate objectives flawlessly. Whether your needs are temporary or long term, you will get the assistance of strategic planning consultants who would offer expert services to analyze,  monitor and implement technical solutions that will help your business move forward. The customized cloud services will reduce costs and additional stress to manage the services.
Transform your IT infrastructure:
Any business would like to grow and small sized businesses need to focus on the core needs of business to prosper. Inefficiency to manage the IT environment can enhance risk and downtime that can risk your IT investments.
So, look at your IT infrastructure needs and determine the changes you seek for your business. If you communicate them to the VizDesk Support team, then that will help your business evolve with systematic cloud services, which means better productivity and security.
Now is the time to focus on critical business tasks and bid farewell to old methods of fulfilling corporate needs.
Adopt cloud for your business, embrace prosperity !