VizApp is deployed on a robust infrastructure, specifically tailored to meet the day to day needs of every small and mid size business. You can be assured your IT is on a robust cloud infrastructure – until now has been available only to the large companies. This technology provides 100% availability to the infrastructure – your routers, network and Internet connectivity will be up 100% of the time.
We enable employees to work from virtually anywhere on almost any device. We enable and empower your workflow so that you, your staff have the data and communications you need to succeed regardless of where you are.
EMAILS:

Communicate the way you want with email, chat and video calls.

CALENDAR:

Organize your life effortlessly with tools like smart scheduler.

HOME DRIVE:

Collaborating as easy as creating, accessible from anywhere.

COLLABORATION:

Tools to connect people and ideas in your company – Includes Intranet, Audio / Video Chat, Project management and so on.

SOCIAL MEDIA:

Your business in social media to improve customer contact, retention and lead generation. Our value added services ensure that your transition to the world of collaborative cloud services will be safe, smooth and rewarding. We will support you in every step of the process, including strategic planning, delivery, support and training of your employees.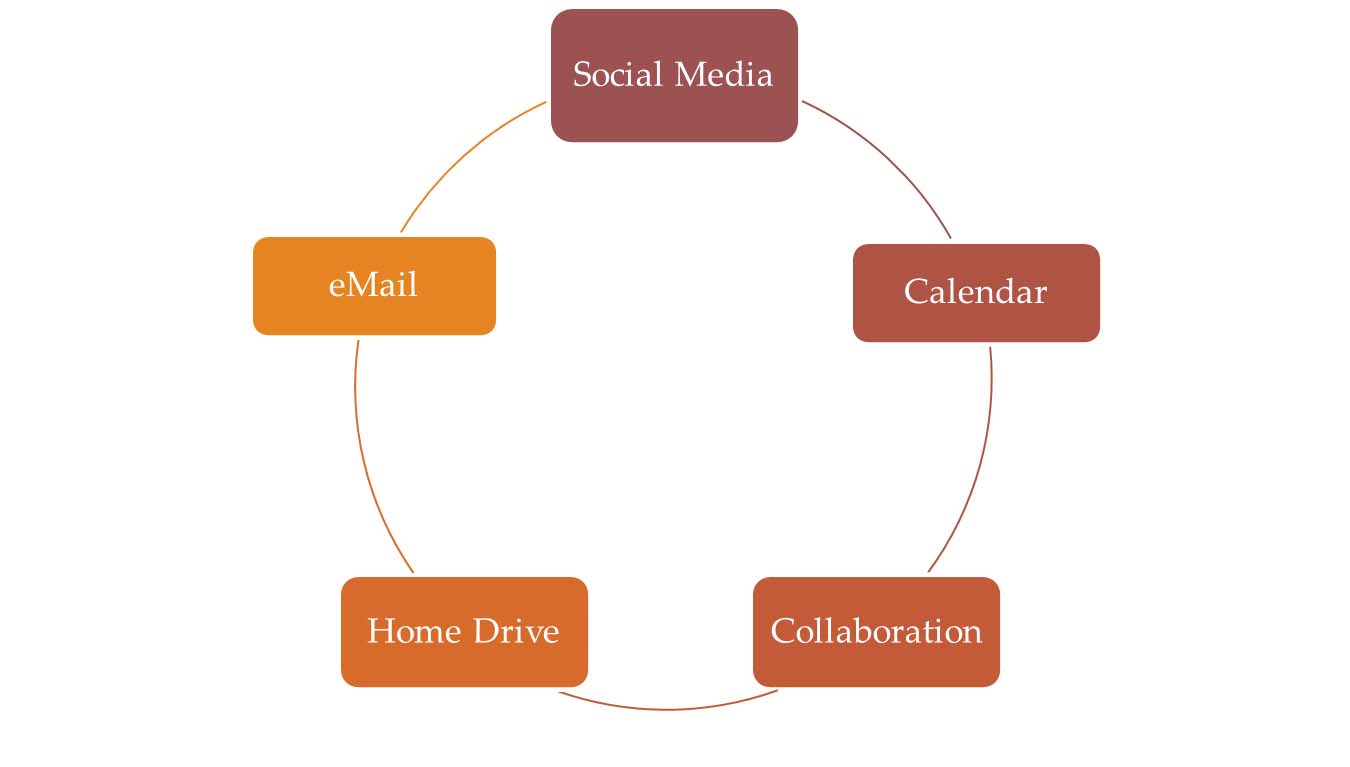 VizSuite applications are hosted on a state of the art Infrastructure as a Service (IaaS) – a robust platform giving you the big company look. Besides cutting your IT costs you would benefit from redundancy in power, network, and server relieving you of disaster recovery worries. We take your IT infrastructure where some of the most powerful companies host theirs – Google, eBay, Yahoo, BIDU or some of the examples.
We turn your computers at your office location in to virtual desktops (your computer's hosted on the robust Infrastructure eliminating the need to maintain windows, antivirus and updates). With virtual desktops your employees will have access to the same data and applications from home, airport, hotel or where ever they may be. Keep employees productive on their favorite Android, iOS and Windows apps and devices – and help keep your company data protected.
Our integrated VizSuite is designed to empower your business, so you can do and achieve more.
Our value
EASE OF USE

A collection of business applications – Project management, email, calendar, Social media etc. that is available from anywhere and any device you and your employees will find ease of use and higher productivity.

LOWER IT COSTS

We guarantee lower cost of your IT infrastructure and applications and productivity gains.

KEEP TECHNOLOGY CURRENT

Always have the latest and greatest equipment and software, and leave upgrades and patches to Introviz, so your IT staff can focus on strategic initiatives for your business.

PROTECT YOUR BUSINESS

with your crucial documents backed up and infrastructure supported by our advanced network, you can ensure that it will always be business as usual and your company will be safeguarded in case of disaster.